Non Profit
Track Donor Lists, File Tax Exemption Forms and Get
Customized Financial Reports for Your Non Profit Firm
Robust Accounting System for Your Non Profit Firm
The operational style of a non profit organization is quite different from any other type of business. For social welfare activities, Internal Revenue Service (IRS) grants a tax-exempt status to non profit firms. It is, however, important for your non profit firm to reveal financial reports, donor lists and other such information to the public. And, any inaccuracies pertaining to the financial reports of your non profit firm can face a backlash in form of financial penalty.
It is, therefore, important that your non-profit firm have the robust accounting system that efficiently help you maintain details of every single transaction, donation, expenses and reminds you about timely filing of tax exemption forms. QuickBooks Desktop Enterprise is one of the top-rated accounting software that is designed and developed to meet unique financial needs of non profit firms. This accounting software is loaded with significant tools, features and templates that all in all takes accounting and bookkeeping experience of non profit firms to the next level.
QuickBooks Desktop Enterprise for Your Non Profit Firm
QuickBooks with its different set of versions are designed to meet unique accounting and bookkeeping needs of different business domains. QuickBooks Desktop Enterprise with its inbuilt features fulfills different complex accounting needs of your non profit organization. Different accounting and bookkeeping features that come along with QuickBooks Enterprise for your non profit business are listed below.
Customization Option
QuickBooks Enterprise has inbuilt template for generating different financial reports for your non profit firm. You can further customize these templates in the way you want. You can even add logo in the templates.
Chart of Accounts
Transferring your financial data directly to IRS forms get easy with QuickBooks Enterprise. QuickBooks Enterprise consists of Unified Chart of Accounts that can be easily corporated with your non profit firm.
Microsoft Integration
With QuickBooks Enterprise, you can easily get rid of different manual and tedious tasks. QuickBooks Enterprise has inbuilt letter templates in Microsoft Word format that easily pre-populates with your accounting data.
Industry-specific Report
With the Advanced Reporting feature of QuickBooks Enterprise 18.0, you don't need to search for the powerful reporting tools. The latest edition of QuickBooks Enterprise has hundreds of templates among which you can select the one that fits into your business.
Special Features of QuickBooks Enterprise that Keeps You IRS Ready
QuickBooks Enterprise also consists of several features that keep your non profit firm IRS ready. Among several features, here are the ones that are top listed, preferred and used by the top non profits firms in the United States.
Now finding the donor list and getting accurate data of the grants received is easier than ever before.
Now you can compare details of the specific budget to the actual budget of your non profit firm.
Statement of Financial Position
You can now see critical financial reports such as balance sheet and compare it with the last year to determine actual financial position of your non profit firm.
Statement of Financial Income & Expenses
It is now easy to find the amount of grants or donation that you received and how you spent it.
Statement of Functional Expenses 990
Now you can easily identify different expenses on your IRS form 990.
Customized Accounting and Bookkeeping Services for Your Non Profit Firm
AUDINC is a reputed and leading accounting, bookkeeping, payroll and taxation service provider based out of the United States. We are a team of certified and experienced QuickBooks ProAdvisors who have in-depth working knowledge on managing accounts, books and taxes of non profit firms. A wide range of accounting and tax services that we offer to your small business are listed below.
Accounting services
Outsourced accounting & CFO services

Online payroll service & payroll tax compliance

Set up fund accounting

Financial statement preparation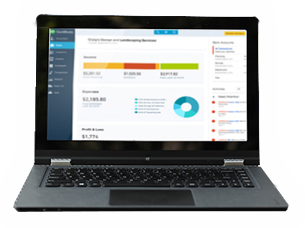 Tax Services
Form 990 series preparation

Compensation tax compliance

Organizational Advisory Services:

Board development
Authorized Intuit Reseller
AUDINC is well-recognized Intuit Authorized Reseller and Consulting Firm with a number of satisfied clients countrywide. We hold strong expertise in a variety of QuickBooks® implementation, integration and further business processes. We have a team of highly proficient and skilled professionals to handle various QuickBooks® progressions for clients across several industries. Simply, we have all the qualities needed for an expert destination.
Certified QuickBooks Experts
If you are looking for QuickBooks experts to provide you professional business management solution and technology consulting services, we can help. Our organization holds experience to perform thousands of client engagements across numerous industries. Our exclusive services help your business' growing business needs and bring you competent way for the fulfillment. We provide the experience and expertise you can rely on. Go with our services and get what is right for your business.
Why AUDINC?
There are multiple reasons that make AUDINC the leading QuickBook Data Backup services provider in the United States.