Quickbooks Hosting
Getting Quickbooks hosted on the cloud allows you to work on the accounting software 24X7, irrespective of their location or the device you choose to use.  Willing to give it a try? Contact us today to try it for free, before opting to sign up for Quickbooks Cloud Hosting.
Quickbooks Cloud Hosting With AUDINC – What to Expect?
AUDINC's Quickbooks cloud hosting services strive to maximize the benefits of the feature-rich accounting software by making your Quickbooks Desktop installation scalable, affordable and secure, also offering business specific customizations to ensure best fit.
Opt for QuickBooks hosting with us to enjoy a more powerful user experience, which allows you to fully tap the functional capabilities of Quickbooks.
Our reliable hosting services have earned the trust of satisfied customers including freelancers, accountants, business firms and professional CPAs across the country.
Why AUDINC Quickbooks Hosting Solutions?
Hosting Quickbooks with AUDINC can make a difference if you are looking for a value-for-money hosting service, replete with quality technical and customer support. Here are few salient benefits of our hosting services:

Unlimited Resources
Access to unlimited storage, memory or software ensure scalability on demand and custom work environment

Unlimited Bandwidth
Makes it possible to experience fast response times even during peak usage

Comprehensive Knowledge Base
Offers easy and instant reference to resolve common hosting problems on your own.

Experience and Expertise in Quickbooks hosting
enable reliable services and valuable guidance

Scheduled Data Backup everyday
Ensures smooth and secure operations

Proactive Resolution of Technical Problems
Minimize downtime and ensure 24X7 access to QuickBooks by addressing technical issues faced in hosting or working with hosted solution.

Prompt Customer Support
Experienced support personnel are available throughout the day on e-mail, chat and phone to address your queries or remedy any problems you may face when using the system.

Affordable Hosting Plans
Our Flexible payment plans and pay-as-you-use facilities are aimed at offering value-for-money cloud hosting services where hosting charges are based on the actual resource use.

Expert technical assistance
is available 24X7 throughout the year and free of extra charges to ensure your business operations are up and running without any major disruptions.

QuickBooks File Transfers
Users can transfer Quickbook files and data in a secure manner by protecting them with apt passwords, and also track transfers effortlessly. Data is however capped at 20 GB per transfer.

Data Migration
Business data is precious and more so when migrated from other systems into QuickBooks. Our experts ensure seamless and precise migration of critical data into the QuickBooks software to get your business up and running at the earliest, post QuickBooks installation. Irrespective of migrating data from files on your personal computer, from one QuickBooks version to a higher edition or another hosting service provider to our state-of-art, highly secure data centres on the cloud, we ensure fast, reliable, complete and accurate data transfer.
Why AUDINC Quickbooks Hosting Solutions?
Hosting Quickbooks with AUDINC can make a difference if you are looking for a value-for-money hosting service, replete with quality technical and customer support. Here are few salient benefits of our hosting services
Anytime Anywhere Access from Any Device
Permitted users can access the accounting solution on the cloud at any time of the day, from any location and using any device.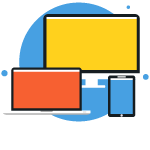 Near Instant Response Times
Well-maintained, hi-end infrastructure and bandwidth availability ensure speedy access and processing of data, minimizing any unwanted delays and performance lags.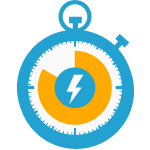 Safe Storage and Access of Business Data
From basic data encryption and authenticated access to high level security protocols and software installed on the servers, cloud hosting effectively secures proprietary business data.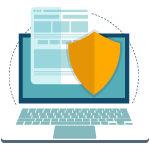 Updated, Secure and Well-maintained IT infrastructure
The hosting environment serving multiple users is maintained in good health with upgrades, updates, defect fixes and patches applied in a systematic manner to ensure that the infrastructure is protected from malicious attacks, and has the latest versions of software running on the servers.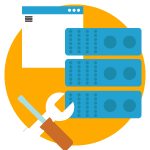 Scalable on Demand
Cloud hosting is really handy for expanding/growing businesses as it helps address the increasing demand for resources quite easily. Dealing with seasonal demands and off season slumps also become quite cost-effective as businesses are allowed to scale up or down based on their needs.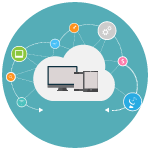 Cost-Effective Business Operations
As a QuickBooks user, you will find it quite cost-effective and beneficial to get the software hosted on the cloud as totally does way with the infrastructure and resource overheads typical of any on-premise software installations. Fluctuating business prospects and seasonal demands are easily addressed as you pay only for the resources you actually use.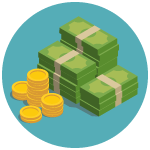 Support for Hosting, Customizations, Problem Resolution and Migrations
Support teams can help tackle any specific custom requirements that you may need, to make the QuickBooks offering more suitable to existing processes and operations at your workplace.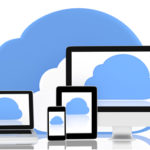 AUDINC Cloud Hosting For All Editions of QuickBooks Desktop
AUDINC's Quickbooks hosting services cater to the entire range of QuickBooks Desktop solutions – Pro, Premier and Enterprise, enabling users to access all features of the respective editions, but in a more efficient manner as they are now backed by our robust infrastructure. QuickBooks cloud hosting with us can prove a cost-effective and powerful alternative than on-premise installations. Do get in touch with us to know more about QuickBooks hosting plans and options available.
Hosting Industry Specific QuickBooks Solutions
We also host specialized offerings from QuickBooks designed to suit diverse industry practices and standards based on request.  Cloud Hosting services are available for QuickBooks solutions specific to the following sectors:
With QuickBooks hosted on the cloud, businesses across sectors can now sign up for other optional offerings from Intuit such as Quickbooks Payments and Payroll processing to fully automate their operations. Reliable and secure internet connectivity helps you make the best use of Quickbooks features.
QuickBooks – Integration with Third Party Applications
It is possible to integrate QuickBooks with a host of third party software to create a custom accounting system that meets all your business requirements effectively. Hosting QuickBooks with AUDINC enables you use third party add-ons to enhance the functional capabilities of your accounting system. We support a host of Quickbooks add-ons including but not limited to:
QuickBooks Hosting Environment – Software
In addition to the hosted QuickBooks solution and integrated add-ons, hosting plans also include 90 days of backup data, as well as access to other software in hosting environment such as:
Microsoft Offerings – Winword, PowerPoint and Excel
File Explorer
Viewers for Excel and Word files
Adobe Reader
(Y)Our IT infrastructure is safe guarded by enterprise grade security solutions. We pride ourselves on exemplary support services and impressive response times.
QuickBooks Cloud Hosting – Frequently Asked Questions
We've addressed a few common questions on QuickBooks cloud hosting to make things easier for you to follow. Feel free to contact us if you require more specific details.
What is QuickBooks Hosting?
Quickbooks hosting refers to installing your accounting software and storing all related files and data on a remote cloud-based server, which is accessible via the internet. Authorized users can use the software from anywhere, anytime, and from any device with internet connectivity.
What are the system /network requirements for QuickBooks Hosting?
All you need is a MAC OS or Windows OS with Remote Desktop Protocol (RDP) enabled to access Quickbooks Desktop hosted on Audinc's cloud infrastructure. While internet connectivity is a must to use the software, we take care of all other system requirements for your chosen Quickbooks Edition and version and address custom settings as well.
Is QuicksBooks hosted on the cloud accessible from my Smartphone? What other devices are supported?
Yes Smartphone access is possible. You can access and use Quickbooks hosted on the Cloud from a range of devices including PCs running on Linux, Windows or a Mac.
Is it possible for many users to work on the same file?
As the accounting software is accessible via internet, it is possible for many users to work on the same data file, using the device of their choice. Data updates happen in real time.
Can I use Quickbooks Hosting instead of opting for Quickbooks in Multi-User mode?
While both options enable multiple users to work simultaneously on a Quickbooks company file, setting up the Multi-user mode on premise needs more care and attention, when working with an in-house local area network. Alternatively multi-user mode on hosted Quickbooks is bundled with other benefits of cloud hosting and often proves a better option.
Hosted Quickbooks Desktop or Quickbooks Online – which one is right for me?
Quickbooks Online and Quickbooks Desktop hosted on the cloud are both accessible via the internet, but the Desktop and Online versions are different. Quickbooks Online is an ideal offering for simple service oriented businesses that require few basic features. The hosted Desktop editions are more suitable for businesses dealing with tangible products, with more complex operations across one or more locations.
Hosted Quickbooks or On-premise installation – which offers best speeds?
Quickbooks response times and performance largely depends on the efficiency and capabilities of the underlying IT infrastructure. State-of-art hardware, latest software and thorough maintenance of hosted environments promise lighting speeds; however, decent performance levels are achievable if in-house IT systems are technically advanced and well-maintained.
Will I lose data or features if I move my Quickbooks to Cloud?
We at Audinc ensure smooth migration of Quickbooks to your hosted environment, without any loss of business data. Moving to cloud hosting is only bound to enhance user experience. You will be able to use all features of your Quickbooks Desktop Edition in a more effective and powerful manner and access optional features with equal ease should you wish to.
What will be the impact of unreliable internet connectivity on my business data in cloud?
All successfully posted transactions get saved to the cloud. However if internet connectivity is lost before you complete a transaction, save the details once the connection is restored. Data will be available in transaction window as long as it remains open.
What is a Quickbooks Terminal Server?
It is possible to host any Quickbooks Desktop edition on a Windows Terminal Server (WTS). The WTS on which Quickbooks is hosted is commonly referred to as Quickbooks Terminal Server aka Quickbooks on Terminal Server.
Authorized Standard Host / Authorized Commercial Host – Who are they?
They are Standard or Commercial hosting service providers, who have a written authorization from Intuit, permitting them to remotely host select Quickbooks versions for licensed end users.
Is Audinc an Intuit-authorized Quickbooks hosting service provider?
No. Audinc is not an Intuit Authorized hosting service provider. You can find them listed here: www.intuithostingprogram.com.  We however offer the best of hosting services in compliance with PCI-DSS, SSAE-16 and SOC requirements.
How secure and reliable is your hosting infrastructure?
Audinc's hosting platform/environment is ably protected by anti-spyware solutions with additional firewalls in place throughout the hardware infrastructure. We also have a dual backup system that stores data in 2 different locations to enable prompt and reliable data recovery. Security settings are regularly monitored and software upgraded systematically. Our data centers are SAS certified, with data being secured by password protected access.
Is the Intuit Hosting Program same as QuickBooks Online Edition?
No. The Intuit Hosting Program legally permits or authorizes hosting service providers to host Quickbooks for windows on request from licensed end users. They are allowed to install and manage the Pro, Premier and Enterprise editions of Quickbooks Desktop software, and enable password authenticated access for licensed users to work on the software.
The Quickbooks Online edition, however, is a separate online/ web-based software application that subscribers can directly access via the internet.
Does the Intuit Hosting Program guarantee business data security?
While Intuit legally authorizes hosts participating in the hosting program, it does not in any way guarantee or certifies the capabilities of the hosting environments (irrespective of standard or commercial). The hosting service providers are solely responsible for security, accessibility and backup of Quickbooks data files on their hosting environment. They must deliver on promises they make to end users, and fully comply with clauses detailed in the service level agreement.