QuickBooks Manufacturing
In this Fast Paced Business World, We have
the Perfect Financial Solution for Manufacturers and Wholesalers
Robust Accounting System for Manufacturers and Wholesalers
In this fast paced business world and consumer oriented economy, manufacturers and wholesalers are the largest business group who have witnessed exponential change in the way of doing business. From manufacturing a product to supplying to the retail market, there are several complexities involved that calls for the robust accounting system.
With years of immense experience in delivering accounting, bookkeeping, payroll and taxation services, AUDINC has formulated innovative solutions to simplify cash flow, inventory management and several other complexities pertaining to your manufacturing and wholesaling business. With the application of several QuickBooks products we simplify accounting for you.
We have a team of certified and experienced QuickBooks ProAdvisors who have years of experience in working with top manufacturers and wholesalers of the United States. From the basic QuickBooks consultation to installation and setup of QuickBooks, we provide comprehensive accounting and bookkeeping services for your fast growing business.
Track Inventories and Stay Updated With QuickBooks Enterprise
QuickBooks Desktop Enterprise is the most preferred and used accounting software that has inbuilt features and accounting tools for manufacturers and wholesalers. This accounting software automates and simplifies one of the most complex tasks of inventory management. You can now easily track inventories and stay updated about all the critical information with QuickBooks Enterprise.
Mobile Inventory Barcode Scanning
This feature of QuickBooks Enterprise makes tracking of inventories much more easier and simpler.
Average Cost Accounting or FIFO
You can now track fast moving inventories in the way you want and that too on the basis of different classes such as FIFO and Average Cost.
Now you can automatically build subassemblies and see different components that affects inventories of your business.
Available-to-promise Functionality
With QuickBooks Enterprise, you can easily see all the data related to inventory on a single screen.
Efficiently Manage Manufacturing Scheduling and Operation
With QuickBooks Desktop Enterprise, you can now efficiently manage manufacturing scheduling and operation. QuickBooks Enterprise with its below listed significant features takes your overall accounting experience to the next level.
Advanced Reporting
With the Advanced Reporting feature, you can easily create customized financial reports for your business.
Advanced Pricing
Customize, control and automate pricing of different products in the way you want with the Advanced Pricing feature.
Electronic Data Interchange (EDI)
You can now easily automate sales order processing and purchase order tracking with Electronic Data Interchange.
Order Tracking and Sales Fulfillment is Easier than You Ever Imagined
QuickBooks Desktop Enterprise is loaded with several features that automates and simplifies the complex tasks of order tracking sales order fulfillment process. These features are listed below.
With the new order picking process feature, you can easily create and track customized pick lists for your business.
Easily see and track backorder and purchase items, and its sale receipts and invoices with Backorder Tracking feature of QuickBooks Enterprise.
With the advanced Sales Order Fulfillment feature of QuickBooks Enterprise, you can see all the open sale orders on a single screen.
Specialized Accounting Services for You At Fingertips
With years of immense experience in delivering customized accounting, bookkeeping, payroll and taxation services, we at AUDINC have developed innovative solutions to efficiently rebuild the accounting system of your manufacturing and wholesaling business. A wide range of accounting and bookkeeping services that we have designed are listed below.
QuickBooks Consulting services

QuickBooks Installation and Setup services

QuickBooks Add On Integration services

QuickBooks File Review Services

QuickBooks Data Recovery Services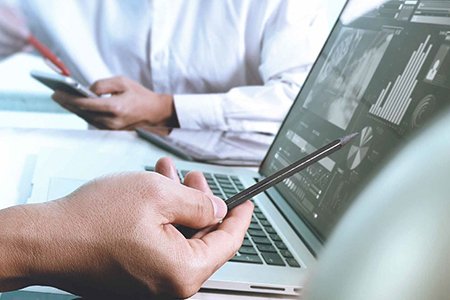 Authorized Intuit Reseller
AUDINC is well-recognized Intuit Authorized Reseller and Consulting Firm with a number of satisfied clients countrywide. We hold strong expertise in a variety of QuickBooks® implementation, integration and further business processes. We have a team of highly proficient and skilled professionals to handle various QuickBooks® progressions for clients across several industries. Simply, we have all the qualities needed for an expert destination.
Certified QuickBooks Experts
If you are looking for QuickBooks experts to provide you professional business management solution and technology consulting services, we can help. Our organization holds experience to perform thousands of client engagements across numerous industries. Our exclusive services help your business' growing business needs and bring you competent way for the fulfillment. We provide the experience and expertise you can rely on. Go with our services and get what is right for your business.
Why AUDINC?
There are multiple reasons that make AUDINC the leading QuickBook Data Backup services provider in the United States.